An Indigenous Australian man has been languishing for more than three years in immigration detention after an attempt to deport him failed when he was refused entry at the border to Papua New Guinea.
Gus Kuster is effectively stateless – there is no country that acknowledges him as its citizen – and despite being recognised as an Indigenous Australian, he faces indefinite detention.
"I'm still here, still detained, after all these years," Kuster told the Guardian from an immigration detention centre. "But Australia is my home, the only home I've ever known."
Kuster's contested case has exposed gaps in the operation of Australian migration law, in particular in its application for Indigenous Australians.
The high court has held that Indigenous Australians – regardless of citizenship – cannot be "alien" to Australia, meaning they cannot be held in immigration detention or deported. But in order to be considered Indigenous, a person must meet all three limbs of the "tripartite test" established by the Mabo native title cases in 1992: biological descent; self-identification as Indigenous; and recognition of indigeneity by a First Nations group.
Kuster was born in Manus province, Papua New Guinea, but has lived in Australia since he was three. Critically, however, he does not hold Australian citizenship.
His grandmother was an Indigenous woman from Thursday Island, in the Torres Strait, according to evidence presented to the federal government, and he has previously been supported by the Aboriginal Legal Service.
Kuster's ancestors include a Tamworth-born grandfather who fought in the Australian army in the second world war, and a Sydney-born great-grandfather who fought at Gallipoli. Kuster also has a son, who is an Australian citizen.
"All I know is Australia," Kuster said. "All my family, all my friends, I grew up in this society."
In 2019, the Australian government attempted to deport Kuster to Papua New Guinea under section 501 of the Migration Act, which mandates visa cancellation for any "non-citizen" convicted of a crime and sentenced to 12 months or more in jail.
But in a dramatic impasse, immigration officials in Port Moresby refused to allow Kuster into the country, insisting he was not a PNG citizen. He was returned to Brisbane where he has been detained ever since.
Kuster has a significant criminal history. He has been jailed 10 times over more than 20 years for drugs, driving and assault offences, including a two-and-a-half-year prison term for dangerous driving. Kuster has undertaken rehabilitation programs and has a good behavioural record in detention.
"I don't think words can explain … the trauma it's caused. Since they flew me back, I get nightmares every night," he told the Guardian.
"I come from a big family, and it's hard on everyone, but especially my mum. She cries on the phone, she rings up crying, about the whole situation and why they are just holding me here."
Kuster's citizenship case is currently before the administrative appeals tribunal. His ongoing detention is being examined by the United Nations working group on arbitrary detention.
Kuster says he has sought to provide as much documentation as possible verifying his identity and history, including statutory declarations from Indigenous elders from the Gumbaynggirr nation on the Australian mainland, attesting to his acceptance as an Indigenous person in their community.
"What more can we do, what more do they want? I don't see why it's happening, why it's taken so long, and nothing is happening, why I'm still here."
Gumbaynggirr man Rob Canning, who has known Kuster since childhood, said it was accepted by that Aboriginal community that Kuster was Indigenous.
"Our families have always been very close, and Gus has always had an incredibly strong connection to the Aboriginal side of the family. They [the government] need to recognise that … and get him back to his family, his community."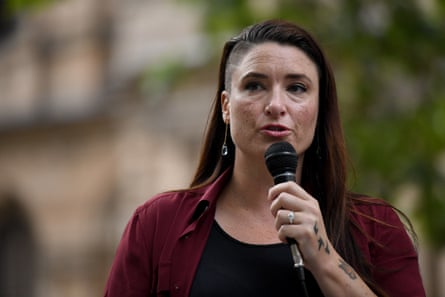 The director principal of Human Rights for All, Alison Battisson, who is acting for Kuster, said his case exposed that the tripartite test – developed to determine eligibility to claim land rights as an Indigenous person – "is not fit for purpose to determine Aboriginality as it relates to citizenship or belonging to the Australian community".
"This is because of the history of dispossession from the land and the stolen generations. It is extremely difficult, if not impossible, for many Indigenous people to prove, to the standard required for the bureaucracy, that they are Aboriginal."
Battisson said the Australian government had been reticent to act in Kuster's case, allowing his detention to drag on indefinitely. He should be released immediately, Battisson said.
"They are waiting for PNG to change its mind and magically accept Gus as a national. In the interim, they are happy to allow an Indigenous man to rot in immigration prison."
The government has argued Kuster does not meet the tripartite test, and maintains all three limbs of the tripartite test must be met by reference to the same Aboriginal society. At issue is the fact Kuster's biological descent, and his community recognition as Indigenous, relate to different First Nations groups.
A spokesperson for the Department of Home Affairs said it could not comment on individual cases, but that "the Australian government is committed to working with Aboriginal and Torres Strait Islander people on matters that affect them".
The spokesperson said non-citizens who met the test to be considered Indigenous could not be detained or removed from Australia, but also noted that non-citizens who do not hold a valid visa "will be liable for detention and removal as soon as practicable, pending resolution of any ongoing matter".
The landmark high court judgment in the Love and Thoms cases in 2020 resulted in a number of Indigenous Australians – who were not citizens – being released from immigration detention.
"Aboriginal people have been inseparably tied to the land of Australia generally, and thus to the political community of Australia," Justice James Edelman wrote in his judgment.
"An Aboriginal person cannot be an alien to Australia."