CHATHAM – Every day for the past 25 years, Mike and Brenda Neuts have thought about their son Myles.
Article content
CHATHAM – Every day for the past 25 years, Mike and Brenda Neuts have thought about their son Myles.
Article content
And even now, the story about the tragedy that took the 10-year-old's life continues to reach youth who have suffered bullying and has even saved lives.
On Feb. 6, 1998, Myles was found unconscious, hanging by his shirt collar and necklace from the hook of a washroom stall door at the former St. Agnes elementary school in Chatham. Six days later, the Thamesville couple made the difficult decision to remove Myles from life support.
When the ensuing police investigation wrapped up in April 1999, officers said there were no grounds to lay criminal charges against two boys reportedly involved in the incident. A year later, an inquest was unable to determine how Myles ended up on that washroom stall hook.
The couple then turned to advocacy to try to ensure no other child died due to a bullying incident, dedicating themselves to the goal of seeing the inquest's 24 recommendations implemented.
Article content
Mike Neuts said he could have entered a dark place after his son's death, drowning his sorrows in drugs and alcohol.
"What I stood up and did instead has made me a better person because I have to walk my talk better than most people," he said.
His advocacy has delivered a powerful message to more than 200,000 students across Canada.
Neuts has also kept every one of the nearly 19,000 letters he's received from students during his quarter-century campaign.
"Out of all those letters, I've got about two dozen that are from kids that were going to kill themselves, but they won't because they met me," he said.
"So, I gotta go talk to these kids," added Neuts, his voice cracked with emotion.
The couple's advocacy began in August 2000, thanks to the late John Kopinak, the first chief of the amalgamated Chatham-Kent Police Service. He spearheaded an international symposium on profiling and interviewing young people that was geared to police officers and educators.
Article content
This kind of symposium was among the jury recommendations from the inquest.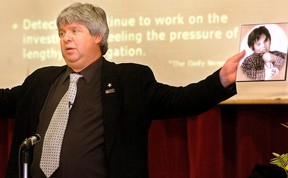 One of Kopinak's first acts as police chief was to pay the Neuts family a personal visit to offer them his support in dealing with Myles' death. "Kopinak was the guy standing us up and dusting us off and pushing us forward," Neuts said.
In 2001, the couple embarked on introducing the Missing Protector Strategy – a program that matched at-risk youth with adult mentors – to schools. Around the same time, Neuts began speaking at schools and other public events, travelling across Canada to share his powerful anti-bullying message.
Meanwhile, the couple began planning a non-profit in their son's memory to raise funds for the betterment of children while continuing to deliver their anti-bullying message.
Article content
Longtime family friend Kent Chapman enlisted the help of his brother-in-law Keith Graham, who put the couple in touch with London lawyer Sylvia Loyens to make it happen.
When prompted by Loyens for a name for the nascent non-profit, Neuts thought about his son's initials – MCBN for Myles Casey Benson Neuts – and said, "Let's call it Make Children Better Now."
The non-profit became official on Oct. 25, 2005.
Make Children Better Now has since grown to raise money for a variety of worthy causes, with a particular focus on mental health issues. The non-profit also provides annual bursaries for local high school students and supports numerous youth-oriented initiatives in the community. It's estimated the non-profit has donated more than $125,000 to a variety of causes.
Article content
Make Children Better Now also developed Respect Revolution, a program geared to youth that promotes self-respect, respecting others, and promoting inclusion and equity with the goal of eliminating bullying.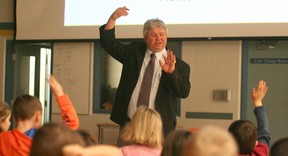 Despite their efforts over the past 25 years, there's still work to be done, Brenda Neuts said. She believes there are now more people showing others respect, dignity and kindness than those who are not.
While content to let her husband be the public face of Make Children Better Now, she said listening to her husband's stories has helped in her own healing.
"We think about (Myles) every day," she said.
She said she's also happy her son Dane has fulfilled several wishes Myles had for the family, including travels to Australia and New Zealand.
Article content
While the COVID-19 pandemic brought Make Children Better Now presentations to a temporary standstill, that's now starting to change. The non-profit recently received a call from the head teacher at a Mississauga private school who remembered Mike Neuts' presentation when she was as student on a teaching placement.
He's also heading to Montreal soon for a talk at an English school.
"I've learned from my own kids in Respect Revolution and my visits to schools. They charge my battery. They pick me up," he said.
And, he added, there is one guarantee that comes with his presentations.
"I can make you think," Mike Neuts said. "I'm hopeful in the way that I make you think, you'll practise being more kind and peaceful and nicer to people."